PROGRAM PAUSED FOR 2023
 
This program provides grants to property and business owners to renovate, restore, or redesign retail and commercial building facades and storefronts in 100 Mile House. The goal of the 100 Mile House Façade Improvement Program is to encourage owners or commercial tenants to invest in building façade upgrades that create a more interesting and appealing streetscape, attracting customers, clients, visitors and businesses to the commercial areas of town. 
The District of 100 Mile House will provide 50% reimbursement to a maximum of $5,000 per building to improve the facades of eligible commercial buildings. It's easy to apply.  To find out if your business is eligible, contact us today.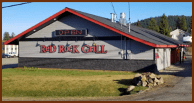 " I am very grateful for the Façade Improvement Program...the program is amazing as it is helping business owners make their buildings and 100 Mile look great. 100 Mile is really open for business and I would recommend this program to everyone."              

- James Clancy, Red Rock Grill
Contact us to find out if your business is eligible.
For all investment related inquiries, please contact:

Joanne Doddridge - Director of Economic Development & Planning
Office:  (250) 395-2434          Fax: (250) 395-3625
Email: jdoddridge@100milehouse.com
Address: PO Box 340, 100 Mile House, BC  V0K 2E0